Restaurant week, the two weeks where people like me, who have yet to receive a pay check and are waiting desperately for the end of the month when the money starts flowing, can go out to eat like adults. Josh and I decided we could eat at one place each week and picked
Zama
for our first dinner out in Philly.
When I eat out I like to get something I can't make, and swanky Japanese seemed way outside the limits of my kitchen. We were not disappointed.
It may or may not be a requirement to sport tattoos if you work at Zama, but almost everyone seemed to have a few of them peeking out of their black uniforms if not crawling all the way down their arms. The vaulted ceiling in the middle of the restaurant was decorated with a pattern of white dots that formed circles and an absence of white dots left the images of koi fish playfully hiding among the dotted design. Light colored wooden bars lined the walls and the atmosphere was swanky but not pretentious.
Jennifer, our waitress, was very helpful with my many questions even after working a double. My miso was one of the best I've ever had. It had mtzsuba (a Japanese parsley) instead of the normal Kame seaweed. Josh's salad was fresh to the max and tasted like greens should taste, not genetically engineered rabbit food. The ginger dressing was tasty too.
My spicy salmon roll was the perfect proportion of spicy, crunch, and fresh salmon, and although Josh had to wait a long time for his pork dumplings he enjoyed them. They tasted spicy and fried to me and not much else.
This lapse in timing was explained to us with apologies. The restaurant has a cold and a hot kitchen, so plates come out staggered, but still tasty and my annoyance changed quickly to delight as my black cod Saikyoyaki came out. It was garnished with a pink pickled scallion (I loooove anything pickled). It was buttery and the perfect balance of fish to ginger soy glaze. Josh's sushi plate was about as delicious as nagiri and maki rolls can be. He'll have to tell you about it though; it was so good he was only willing to share one piece.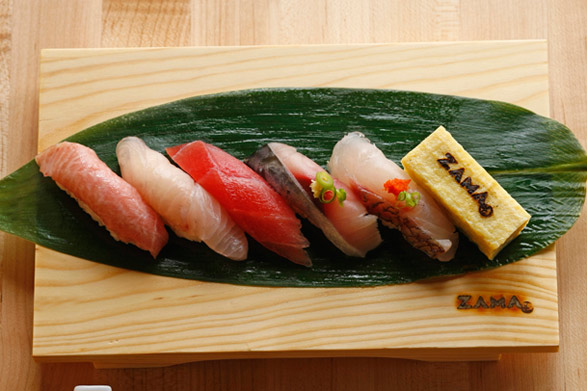 not actually Josh's plate (thanks Google images while my camera charger remains incognito) but you get the idea
Oh, and then there was dessert. And did I mention that this was all for only 35 dollars? I had the peach bread pudding and Josh had the banana bomb. Yes, it was an explosion of banana, and my peach bread pudding was so soft and delectable that I resolved to find a recipe and attempt a remake at home.
All in all it was a lovely evening, and with the right cash flow I would return in the click of a chop stick! If you get the chance stop by before the end of next week cause these prices won't last much longer…